MINSTER 150 TON SSDC PRESS, s/n 21855, STOCK #12420J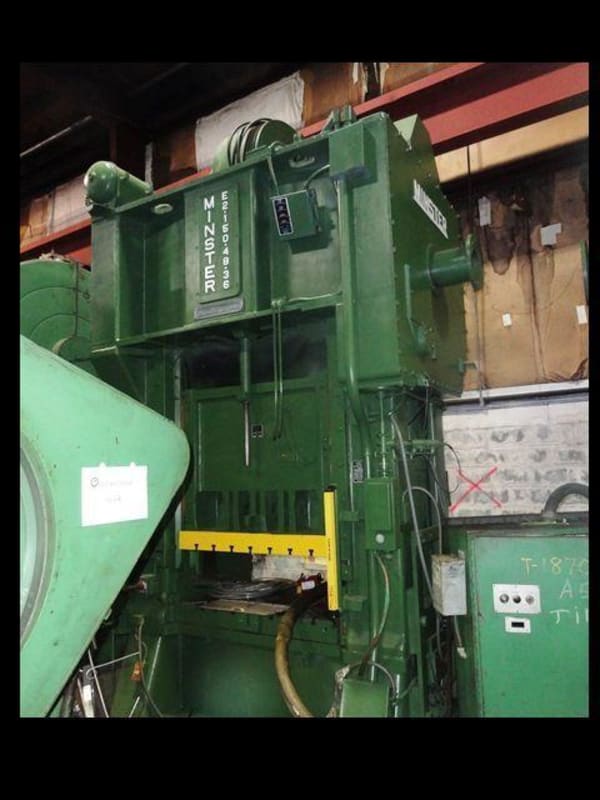 Details
Year:1975
Stock #:12420J
Model:E2-150-48-36
Status:
Specification
150 Ton Minster SSDC Press
Stk# 12420J Model# E2-150-48-36 S/N 21855 Year: 1975

CAPACITY: 150 TON
STROKE: 8"
RAM ADJUSTMENT: 8"
SHUT HEIGHT: 22-1/2"
BED AREA: 48" L-R X 36" F-B
SLIDE AREA: 48" L-R X 36 " F-B T-SLOTTED
SPEED: 10 - 60 SPM
O.A.D.: 74" L-R X 102" F-B X 178" T
APPROX WEIGHT: 47,000 LBS

EQUIPPED WITH:
AIR CLUTCH & BRAKE
AIR COUNTERBALANCES
VIBRATION PADS
RECIRCULATING LUBE
5-1/4" T-SLOTTED BOLSTER
TOTAL CLEARANCE .026"
REBUILT COUNTERBALANCES


TEMPORARY SPECIFICATION SUBJECT TO REVISIONS.

PHYSICAL INSPECTION TO VERIFY SPECIFICATIONS IS RECOMMENDED.
This emblem identifies the dealers who concur with MDNA's high standards of business practice. It is a symbol of integrity, quality, and reliability.