FEDERAL 150 TON BACK GEARED PRESS,S/N 150-101, STOCK# 13517J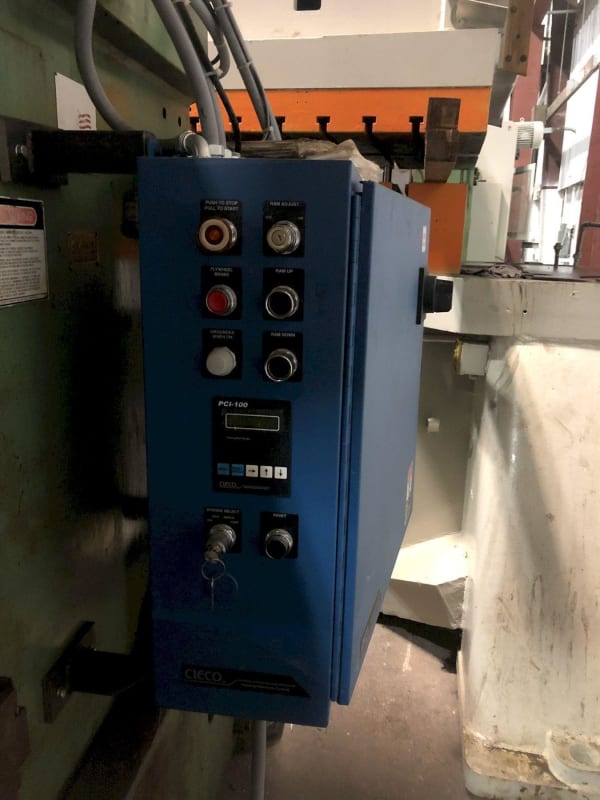 Details
Year:
Stock #:13517J
Model:150
Status:
Specification
FEDERAL 150 TON BACK GEARED PRESS, STOCK# 13517J
MODEL# 150
S/N# 150GA-101
REMANUFACTURED 1995
CAPACITY: 150 TON
STROKE: 6"
SHUT HEIGHT TO BED: 22" SDAU
BED AREA: 50" RL X 30" FB
RAM ADJUSTMENT: 8" (MOTORIZED)
SPEED: 35 SPM
RAM AREA: 34" RL X 24" FB
DIST BETWEEN UPRIGHTS 27.5"
FLOOR TO BED 38"
PRESS CONTROLS
APPROX WEIGHT: 40,000 LBS.
EQUIPPED WITH:
NEW PRESS ROOM ELECTRONICS PRESS COMMANDER CONTROLS
BACK GEARED DESIGN
KNOCK OUT SLOTS
STEEL FRAME CONSTRUCTION
AIR COUNTERBALANCED RAM
OIL LUBRICATION SYSTEM
FLOOR STANDING BASE
PALM BUTTONS
This emblem identifies the dealers who concur with MDNA's high standards of business practice. It is a symbol of integrity, quality, and reliability.